Best SEO Software Around CORA SEO
Best SEO Analysis Software
If you are an expert in SEO you will already know each niche has it's own rules for ranking. Simply the best seo analysis software in fact I would actually say the best seo software around and available for both Mac and PC, Cora will give you the answers to help you rank #1.
Look at this post from Search Engine Journal.
The Rise of On-Page SEO Tools: Pushing the Frontiers of SEO & Content posted on 22nd March 2019.
Cora SEO or Cora Lite?
Both pieces of software work on the same intelligence and by analysing ranking factors. Cora is the 'core' and produces the data by analysing over 15,000 ranking factors and Cora Lite uses the most important ranking factors taking the main 880 factors from the top 100 ranking websites for any given Google search. Googles algorithm has many factors and for some factors the ranking signal is stronger than others. You may need to be slightly over on some and just under on others, the beauty of Cora is this is no longer any guess work or 'guesseo' as it has become more commonly known.
Cora SEO provides you with all the raw data and a roadmap for your SEO. You can see everything you need to and can look in great detail at all aspects of your site along with the other 99 top ranking websites.
With Cora Lite you have the same intelligence but the roadmap is simplified and tells you exactly what to do for your pages to rank.
Cora SEO Software
Advanced SEO Diagnostics
Measures over 15,000 ranking factors and provides you with all the data you need to be able to rank your pages in Google.
Worrying about Google updates are a thing of the past.
If you normally get nervous when a new Google algorithm update is released, Cora is for you.
Running monthly reports on a static site can give you valuable insight into what the current algorithm is. This just has to be the best SEO ranking software around for expert SEO people.
Cora Lite Software
SIMPLIFIED SEO Software
A simplified version of the extremely powerful Cora software which just tells you exactly what to do. SEOs have been wanting this since the dawn of Google. Imagine knowing exactly how to build your pages to rank on Google?
With Cora Lite you get the benefit of the main elements of Cora and this detail is converted into a blueprint for you to apply to your pages. For most search terms this is enough to get good rankings. Simple!
Measures 15,000 Ranking Factors
Take the guessing out of your SEO. See exactly what elements affect ranking and find EXACTLY what you need to do.
Calculates Most Important Factors
How would you spend your time doing SEO? Cora will order the most important elements for you to address.
Works for ANY Search Term
Cora works for any search term in any location on any Google. It only takes a few minutes to run.
SEO Page Tuning with a Blueprint
Cora will provide you with a road map and shows you were your deficits are. The report will also let you know if you are over optimised in any section.
New Cora Lite SEO Software
With Cora Lite you are presented with a report which details exactly what you need to do to rank your page. All the hard work is done for and the weighting of the signals is automatically adjusted along with Google Algorithm changes.
Best SEO Analysis Software
If you are an expert in SEO you will already know each niche has it's own rules for ranking. Simply the best seo software around, Cora will give you the answers to help you rank #1.
Both versions of Cora are available for Windows and Mac computers. You can run the software at various speeds depending upon your hardware.
Cora SEO Software Review
I will start by telling you how good this software is, I know most reviews will keep you hanging around or force you to scroll to pick up the highlights but Cora is so good I thought I would open with the big hitter. Cora SEO Software is the real deal.

Derek Booth
If you have tried SEO software in the past you will know about the false claims and the get rich quick schemes, Cora is different, this software is real and gives you real results with a real plan to follow. It is technical but it is the best software I have ever used for SEO.
My name is Derek Booth and I have been doing SEO since 1998 and I have seen them all come and go.
I spoke at the first White Hat v Black Hat conference in Victoria, Canada and also at SEO Rockstars in Vegas. I know what I am talking about, Cora is the best piece of software around bar none. Cora is mind blowing. Check it out!
Cora for Windows
Cora for Mac
What does Cora do? Why is this piece of SEO software so good?
The answer is simple, Cora checks over 15,000 different factors from the top 100 search results for your chosen key word. By analysing real live data for both on page and off page elements it is possible to see which elements correlate and therefore are ranking factors. Cora will provide you with a road map and shows you were your deficits are. The report will also let you know if you are over optimised in any section.
Cora Software is regularly updated
Cora is no longer a 'piece' of seo software, it is actually a software suite containing some very powerful applications.
Cora SEO Software – The main Cora as we know it
As you can see, the software is simple to use. It is little more than searching on Google but using the simple Wizard to set up the capture. It takes seconds from install on either Mac or PC to get going for your first Cora reports.
Cora 7 has HTML output reports for ease of use.
Once the data has been gathered Cora analyses the results and produces a road map for you. the road map will tell you exactly what you need to change in order to rank.
Unlike other seo position software such as IBP (Internet Business Promoter – http://www.ibusinesspromoter.com) Cora will help you to rank at the top of Google, if you are doing well but stuck at say position 3, with Cora you can fine tune to reach top spot. With the likes of IBP they will only push for a first page result.
Another big difference with Cora is it will work with any niche no matter how competitive the key word, IBP would only promise first page and encouraged you to build more links. Let me tell you Cora is the real deal and not some marketing gimmick.
Can I have fancy white label reporting for my clients?
With Cora Lite you can now produce white labelled roadmaps, Cora SEO has a different audience, the software is not designed for you to white label and show off fancy graphs and charts with your logo all over them. Cora provides real live data and information for you to go about your role as an SEO person.
Cora Software is a technical piece of software which is completely within Google guidelines and provides technical information for search engine optimisation.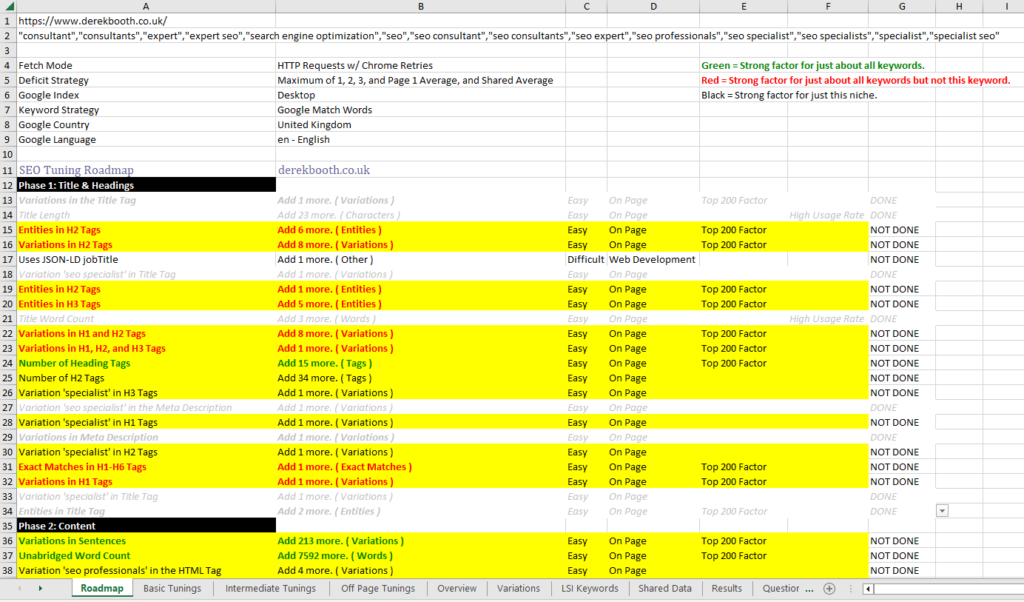 You can see the level of detail the report provides you. The data is from checking over 15,000 elements across 100 results in Google and then seeing what correlates into ranking. The software is scientific on a number of levels. Ted Kubaitis is the creator and brains behind Cora and Ted is active in a couple of masterminds I am also in, the SIA is such a group and run by Dori Friend, Clint Butler and Kelly Colby but was the brain child of co-founder Kyle Roof and the SIA tests Google algorithms using Kyles single variable testing process.
As a tester in here I can obviously see the value of the testing but where Cora goes to a whole new level is Ted works with the data and uses it to correlate and validate his findings. Since I first started with Cora the initial correlations being checked were 300 and now we have over 15,000 elements. Ted runs a very successful YouTube channel called SEO Fight Club.
The single variable testing adds so much to Cora as when a test comes up as a positive ranking factor Cora will confirm the test result. if you think about how powerful that is for a few minutes, you will know what exactly are ranking factors and you will also know exactly how to get the best from them.
Cora Features
Measures over 15,000 On-page and Off-page SEO Factors
Creates reports in minutes
Outputs Reports in Excel
Outputs Reports in HTML
JSON-LD for Schema and Structured Data
Measures factors for top 100 results
Measures factors for your search terms
Puts actionable recommendations in an SEO Roadmap
Provides Charts for every factor
Automatically hides unimportant information
Search Mobile and Desktop indexes
Search in other countries
Search in other languages
Wizard for Beginners
Ban URLs from the analysis
Customize reports for specific websites
Disable factors you are not interested in
Localize results to specific cities
Force URLs into top 100 for getting measurements
Can use with proxies
Many different deficit strategies to choose from
Auto-calibration tunes software for your hardware
Settings allow you to control system resource utilization
Ahrefs integration for off page data
SEMRush integration for off page data
DomDetailer integration for API data
TextRazor API to enable keyword density measurement
Wappalyzer API
Spyfu API
Tunable LSI reporting
Factor Diagnostics to verify measurements
Uses Embedded Chrome Browsers
Executes Javascript and collects rendered HTML
Cora can be addictive
Yes that is correct, it can be very addictive as the results are real time, it is possible to fine tune and spend hours crafting your pages. You may not be that intense and are just looking for the top factors as you only have a few minutes to optimise, Cora can also provide you this information.
When you next sit down to do any SEO on your site, are you guessing? I mean making educated guesses or are you taking actions based on statistical data which has proven over and over?
Here is an example of how I used to optimise a website before I started with Cora. See if these steps resonate with you and your processes;
check to ensure key word is in the meta title, url if possible, h1 and in the first sentence of the body text. (If you are in the SIA you will know for sure all these positions are proven ranking factors)
make sure the key word is in the alt text of an image, url of an image and mentioned a couple of times in the body text
possible have a H2, H3 and H4 containing the key word
If the above is looking familiar you should be using Cora as there are some flaws in the above process, yes I am an SEO expert and have been doing SEO since 1998 but when I discovered Cora it was like all my years of experience was being tested to the limit.
A question to ask yourself, what is the correct amount of times to mention the key word in the body text? How many images should I have on my page and should I put the key word in all the alt tags?
Cora will tell me exactly how many times and also if I should be putting in the exact key word or simply a matched key word.
Yes, I think Cora is the best SEO analysis software around, Ted updates it regularly as new elements are discovered and every time a new Google algorithm is announced the Cora users know what the change has been. As a Cora user I don't follow so called experts who give an opinion, since discovering the software last year and performing single variable tests with Kyle Roof in the SIA I am interested in facts about Google and how it ranks sites, not an 'expert' opinion.

I am an expert in SEO with many 1st position results, Cora absolutely blew my mind. I have never recommended products for SEO well until now that is. If you want to check me out search on Google for 'Derek Booth' and you will see my credibility so you can trust me when I say Cora is the best thing in SEO, simply the best seo software and if you want to rank 1st in your niche you need Cora.

I was one of the testers in the SIA and I can confirm the results of our tests match the correlation results very closely which is why I use Cora in my business and for my clients.

This isn't a typical sales letter with get rich quick all over it because this is not a typical piece of software. Ted (Cora creator) is had a stand at SMX in Seattle to promote the software, if it wasn't great he wouldn't have gone.
The next time someone asks me what is the best seo software? I just say Cora – Order your copy now

Derek Booth
Frequently Asked Cora SEO Questions
Covering Cora and Cora Lite
Q.Is Cora Lite available yet?
Yes it is, you can get a 10% lifetime coupon by using the code: BOOTH
Q.Is Cora still available?
Yes, the new Lite software has been developed to allow less technical SEOs to use the software.
Q.Does Cora tell you how to rank #1?
You are looking at a top ranking site now aren't you?
Q.Can I white label the SEO roadmaps?
With Cora Lite you can yes, the reports are easy to brand with your logo, video and links.
Q.Is it 'algorithm proof'?
Yes, Cora is actually the best way I have discovered to find out what has changed in a Google update.